Getting to Know African-American Catholics
One of the many great things about the Catholic Church is it's very catholicity. The word catholic means "universal." The Catholic Church knows no national or ethnic boundaries. Just as the apostles on Pentecost preached to a diverse crowd who heard the gospel in every language, the Church today preaches the gospel in every tongue, fulfilling Christ's command to make disciples of all nations.
The global nature of the Catholic Church can be seen in most parishes in America on any given Sunday. Even in our small town, I worship most Sundays with people from Mexico, Guatemala, Ecuador, Colombia, Spain, Poland, the Philippines, Puerto Rico, Korea and Japan. I don't know of any other building in our rural county I could be in that would have that many nationalities under one roof except for the Catholic Church. That being said, we only have one black parishioner, and he's from Kenya.
That got me thinking. Most of the black Catholics I know are African immigrants, not African Americans. I know more black Catholics from Kenya, Nigeria, Uganda, and Cameroon than I do from North Carolina. And that's a shame.
It's understandable, in a way. While African-Americans make up over 13% of the total US population, only 3% of Catholics in the US are African-American, according to Pew Research data. Where I live in Jackson County, less than 2% of the population is black, and on our college campus it's 5.5%. So it's understandable that I wouldn't know many African-American Catholics, living where I do. But it's still a shame.
Today, when racial relationships are at the forefront of the national conversation, I think it's important that we get to know a little more about our African-American brothers and sisters in Christ. So I'd like to introduce you to a few. I've tried to select examples both historical and contemporary, saintly and otherwise. I've chosen just a handful to keep this post from being overly long, but there are many more that could be included.
---
Ven. Augustus Tolton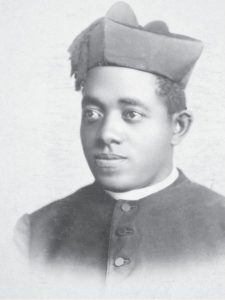 John Augustus Tolton was born in Missouri in 1854, into a family of slaves. He was raised in the Roman Catholic Church by his mother, who was a Catholic. In 1862 his family escaped slavery by crossing the Mississippi River into Illinois. John was very devout in his faith and was permitted to attend an all-white Catholic school in Quincy, Illinois. He later sought to enter seminary, but no American seminary would admit a black candidate at that time. His pastor, Fr. Peter McGirr, arranged for Tolton to study for the priesthood in Rome instead. After six years of study, he was ordained a priest in 1886, after which he was sent back to the United States as the first African-American priest in our country. He died unexpectedly in 1897 at the young age of 43. His cause for canonization is currently ongoing. In 2019 Pope Francis declared him "Venerable," meaning the Church formally recognizes that he lived the virtues of faith, hope and charity in a heroic way.
---
Ven. Julia Greeley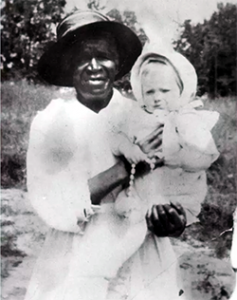 Julia Greeley was born into slavery in Missouri sometime between 1833 and 1848. She lost her right eye as a young child when she was struck in the face by a slavemaster's whip as he was beating her mother. She was freed by Missouri's Emancipation Act in 1865, after which she earned her living by serving white families in many states, eventually settling in Denver, CO. She was known for her charity, keeping only what she needed for herself and giving all her excess earnings to help the poor. When she couldn't help poor families from her own resources, she would often beg on their behalf. She entered the Catholic Church in 1880. She became a daily communicant and had a special devotion to the Sacred Heart of Jesus. She joined the Secular Franciscans in 1901 and died in 1918. Her cause for canonization was opened in 2016. She is known as Denver's "Angel of Charity."
---
Sr. Thea Bowman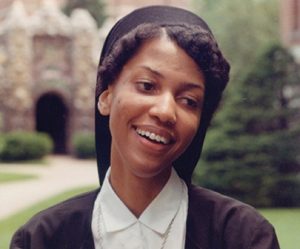 Bertha Elizabeth Bowman was born in 1937 in Mississippi into a Protestant family, but at age nine, asked her parents for permission to become Catholic. Her father was a doctor and her mother a teacher, and they had enrolled their daughter into the Holy Child Jesus Catholic school in Canton, MS, administered by the Franciscan Sisters of Perpetual Adoration and the Missionary Servants of the Most Holy Trinity. She was inspired by the example of these religious orders to join the Catholic Church. At age fifteen, she decided to enter the Franciscan Sisters of Perpetual Adoration, becoming the only African-American member of that order. At her religious profession, she was given the name "Sister Mary Thea." She became a teacher and over the course of her career taught all grade levels, from elementary to college. She eventually earned her PhD and taught as a professor of English and linguistics. She served as a consultant for intercultural awareness for the bishop of Jackson, MS, and lectured across the country on race relations and interracial dialogue. In 1989 she addressed the US Bishops as the key speaker during their conference on Black Catholics. She died of breast cancer in 1990. Her cause for canonization is ongoing.
---
Fr. Wilbur Thomas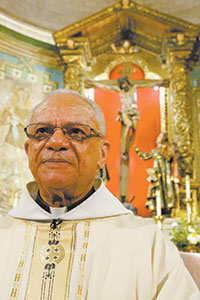 Coming a bit closer to home, Fr. Wilbur Thomas served as a priest in the Diocese of Charlotte until his retirement in 2018. He was born in Lexington, NC and raised in a Methodist family. When he was ten years old, his father suffered a stroke and was bedridden. He remembers his father being visited by a Catholic priest, who conditionally baptized him into the Catholic Church. Wilbur began attending catechism classes at the local Catholic parish and at age 12 decided to become Catholic. He began serving at Mass and developed a strong devotion to the Blessed Sacrament. It was during this time that he first started to discern a call to the priesthood. He attended Bishop McGuinness High School and after graduation entered the seminary for the Diocese of Raleigh, which at the time encompassed all of North Carolina. He was ordained a priest in 1973 and shortly thereafter transferred to the newly established Diocese of Charlotte. Father Thomas was influential in establishing programs in Campus Ministry and Youth Ministry in our diocese, and organized the diocesan Committee of Black Catholic Ministry and Evangelization (now called the African American Affairs Ministry). He was the diocesan vicar for priests (serving as "pastor to the pastors") from 1998 to 2003. When he retired in 2018, he had been pastor of the historic St. Lawrence Basilica in Asheville for 18 years.
---
Toni Morrison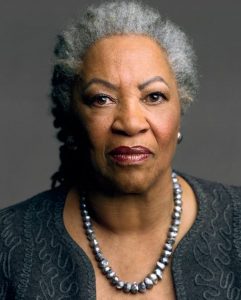 Toni Morrison, author of Beloved, was the first African American woman to win the Nobel Prize for Literature. She was born in 1931 as Chloe Wofford. She converted to Catholicism at the age of 12, having been influenced by a Catholic cousin whom she admired. She chose St. Anthony of Padua as her confirmation saint, and received the nick-name "Toni" after that. She fell away from the practice of the faith in adulthood, though her religious formation continued to influence her writing. In 2015 she said in an NPR interview that she "could easily be seduced to going back to church" because of Pope Francis. She died in 2019.
---
Kobe Bryant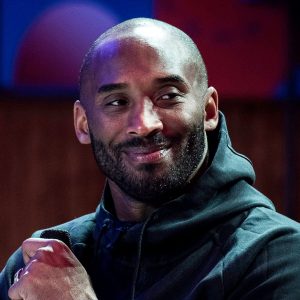 You know Kobe Bryant as the superstar of the LA Lakers, and you remember his tragic death in a helicopter accident on Jan. 26, 2020, which also took the life of his 13-year old daughter, Gianna. But did you know the morning before that tragic accident, he had attended Mass with his family? Kobe was a lifelong Catholic. He was born in Philadelphia in 1978 but spent most of his childhood in Italy (he spoke fluent Italian). His family moved back to Philadelphia when Kobe was 13. He was drafted for the Charlotte Hornets after high school, but was traded to the LA Lakers where he spent his 20-year career until retiring in 2016. In 2003 he was accused of sexual assault. He denied the assault charges, but admitted to a sexual encounter and later apologized to his accuser. He credits the influence of a Catholic priest for helping him to make some important personal realizations during that time. Before his death he and his family established a foundation to assist homeless youth.
---
Jestine Matthews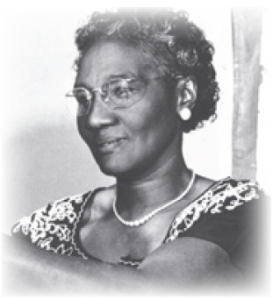 My wife and I love to go to Charleston, SC, for vacation and our favorite place to eat there is Jestine's Kitchen. The restaurant serves up authentic low country cooking like you can find nowhere else. It's named for Jestine Matthews, who was born in 1885, the daughter of a Native American woman and a freed slave working as a farmer on the Rosebank Plantation. Jestine worked as a house-keeper in Charleston to the Ellison family. She helped to raise the Ellison's only daughter, Shera Lee Berlin, whose daughter, Dana Berlin, opened the Charleston Restaurant in 1996 in Jestine's honor, using many of her traditional recipes. Jestine died a year later at the age of 112. You'll find newspaper clippings and memorabilia about Jestine's life posted all across the walls of the restaurant, including a framed clipping of her obituary, which is how my wife and I learned that Jestine's funeral Mass was celebrated at St. Peter's Catholic Church in North Charleston, where she is buried. It turns out that Jestine, whose culinary legacy has blessed so many, was a Catholic. May she rest in peace.
---
Black Catholic Demographics
According to the USCCB there are currently 13 living African-American bishops in the US, eight of whom are still in active ministry, along with 250 African-American priests, 437 deacons, and 75 currently in seminary formation. There are 400 African-American religious sisters and 50 religious brothers. There are 798 predominantly African-American parishes. Twenty-four percent of African-American Catholics worship in predominantly black parishes, concentrated mostly east of the Mississippi.
The Diocese of Charlotte has three predominantly African-American parishes: Our Lady of Consolation in Charlotte, St. Benedict the Moor in Winston-Salem, and St. Mary's in Greensboro.
Learn more from the African Affairs Ministry of the Diocese of Charlotte.