Sunday Mass
Mass is celebrated in our chapel every Sunday during the Fall and Spring semesters (roughly mid-August through mid-May) at 4:00 pm. We do not have Mass on campus during breaks. Please check our calendar for specific Mass times.
Mass for the Spring 2021 Semester
To allow more space for social distancing, Sunday Masses will be offered at Hillside Grind Coffee House, either outdoors on the lawn or inside, depending on weather. Because residential housing will not be open for students to move in until Saturday, Feb. 6, our first Sunday Mass of the semester will be on Sunday, Feb. 7. Face coverings are required at all Masses, and worshipers are expected to maintain 6′ social distancing.
Find more detailed information about how Covid-19 is effecting how we participate at Mass on this page.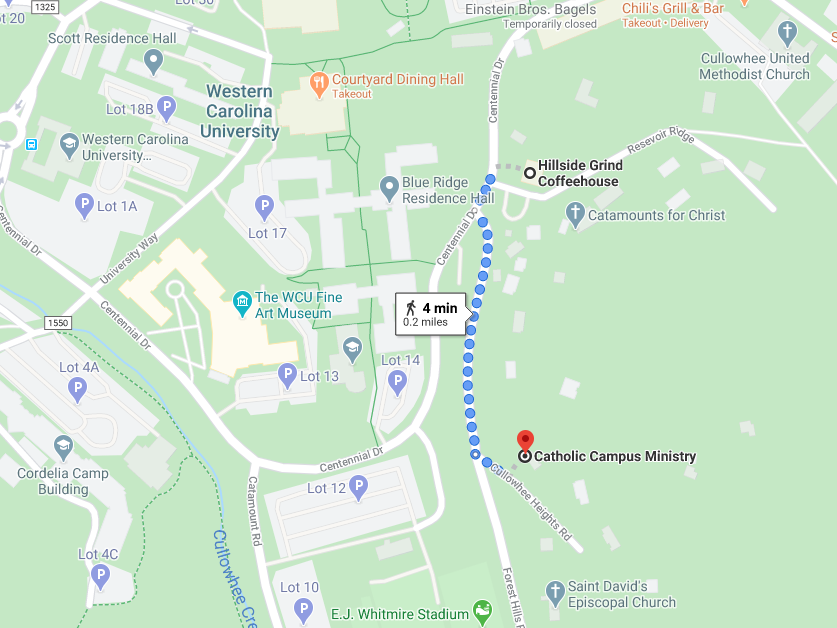 Confessions
Confessions are available on Sundays an hour before Mass (3:00 pm), or by appointment.
Rosary
The rosary is prayed half an hour before Sunday Mass begins (3:30 pm).
Weekday Mass
Weekday Mass on campus is offered on Fridays at 12:15 pm in our chapel.
St. Mary's Parish
Our local parish is St. Mary, Mother of God, in Sylva, NC. Weekend Mass times at St. Mary's are:
Saturday Vigil Mass at 7:00pm (Spanish)
Sunday Mass at 8:30am (English)
Sunday mass at 11:30am (English)
Daily Masses are generally celebrated at St. Mary's at 9:00am on Monday, Thursday, Friday and Saturday, and at 5:30pm on Wednesday. (There is no daily Mass on Tuesday).
Holy Days of Obligation
The general Mass schedule for holy days of obligation is:
7:30 pm Vigil Mass (St. Mary's)
9:00 am Mass (St. Mary's)
12:15 pm Mass (campus)
6:00 pm Mass (St. Mary's)
Please check our calendar for specific Mass times.