Sunday Mass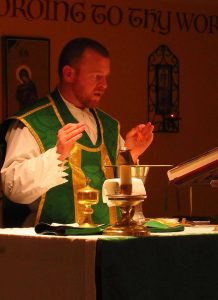 Mass is celebrated in our chapel every Sunday during the Fall and Spring semesters (roughly mid-August through mid-May) at 4:00 pm. We do not have Mass on campus during breaks. Please check our calendar for specific Mass times.
Mass is celebrated by Fr. Casey A. Coleman, pastor of St. Mary's Catholic Church.
Confessions
Father Coleman is available to hear confessions an hour before Mass (3:00 pm), after Mass, or by appointment.
Rosary
The rosary is prayed in the chapel half an hour before Sunday Mass begins (3:30 pm).
Weekday Mass
Weekday Mass on campus is offered on Fridays at 12:15 pm, followed by lunch together at Courtyard Dining.
St. Mary's Parish
Our local parish is St. Mary, Mother of God, in Sylva, NC. Weekend Mass times at St. Mary's are:
Saturday Vigil Mass at 7:00pm (Spanish)
Sunday Mass at 8:30am (English)
Sunday mass at 11:30am (English)
Daily Masses are generally celebrated at St. Mary's at 9:00am on Monday, Thursday, Friday and Saturday, and at 5:30pm on Wednesday. (There is no daily Mass on Tuesday).
Holy Days of Obligation
The general Mass schedule for holy days of obligation is:
7:30 pm Vigil Mass (St. Mary's)
9:00 am Mass (St. Mary's)
12:15 pm Mass (campus)
6:00 pm Mass (St. Mary's)
Please check our calendar for specific Mass times.