Passing of a Campus Ministry Foundress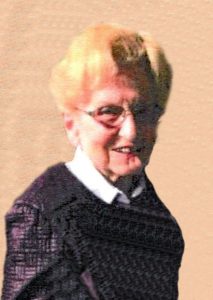 Anna Morrill passed away on Dec. 19, 2020, at the age of 97. She was a long time parishioner of St. Mary's, a retired Navy nurse who served in WWII, and a former member of the WCU faculty. Her contribution to campus ministry goes back to the days when WCU was still just Western Carolina College.
Anna and her husband, Dr. Maurice Morrill, moved to Cullowhee from Pennsylvania when Maurice was hired to be the Dean of Graduate Studies at WCC in 1951, becoming the first Catholic faculty member of the college. At the time the Catholic population of the NC mountains was even smaller than it is now. There were approximately 11 Catholic students on campus, and no Catholic church in the county, St. Mary's not being established until 1954.
Anna was inspired to do something for the Catholic students, and so she and her husband opened their home to them on Wednesday nights for dinner. About six students were part of that initial group, and were sometimes joined by Fr. John Loftus, a missionary priest assigned to our region, who would celebrate Mass for the students in the Morrill's home.
We've come a long way since then, but a core part of our ministry still involves gathering around a table for a shared meal on Wednesday evenings. The CCM hospitality that students so value is Anna's lasting legacy. Please take a moment to pray for the peaceful repose of her soul, as well as her husband Maurice who preceded her in death.
Anna's funeral Mass was celebrated on December 28 at St. Mary's by Fr. Paul Asoh, with Fr. Jim Cahill concelebrating and Deacon Matt Newsome assisting. You can read Anna's obituary here.