Mission of Mercy
2nd Sunday of Easter (A) – Divine Mercy Sunday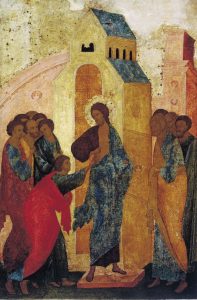 T
he second Sunday of Easter is celebrated in the Catholic Church as a feast of Divine Mercy. The particular devotion to the Divine Mercy has its inspiration in the writings of St. Faustina Kowalska, an early 20th century Polish nun and visionary. But of course St. Faustina was not inventing anything new. She was simply reminding us of something the Church has always stressed, and that is the necessity of relying upon the mercy of God.
One of my favorite prayers is the simple one called the "Jesus Prayer" which is taken from the tax collector's prayer in Lk 18:13. All it says is, Lord Jesus Christ, Son of God, have mercy on me, a sinner. It doesn't say much, but it says all that needs to be said. It acknowledges Jesus as God. It acknowledges us as sinners. And it asks for the one thing all sinners need from God – mercy.
The gospel reading for the 2nd Sunday of Easter is always John 20:19-31. This reading tells of the first time the disciples saw the resurrected Christ. They were hiding (all except for Thomas), in a locked room, afraid. Suddenly Jesus appears in the middle of them and says, "Peace be with you." He then does something very special.
He tells the Apostles, "As the Father has sent me, so I send you." This is what the word apostle means — "one sent on a mission." The Son of God, the Second Person of the Trinity, became Incarnate, took on a human nature, suffered, died, and rose from the dead because He was sent on a mission from the Father. What is that mission? Simply put, it is to reconcile sinners to God. It is rescue mission. It is a mission of mercy. And now Christ sends the Apostles on that same mission.
Jesus then gives them to tools they need to carry out that mission. He breathes on them and says, "Receive the Holy Spirit. Whose sins you forgive are forgiven them, and whose sins you retain are retained" (Jn 20:22-23). Jesus Christ, the Son of God, gives His Apostles and His Church a share in His ministry of forgiveness, and the authority to exercise that ministry. This is why we confess our sins to a priest, who share in this Apostolic ministry. This is what happens every time we enter the confessional and say, "Father, forgive me for I have sinned." We become recipients of God's limitless mercy. And as if that were not good news enough, we don't just receive God's mercy one or two times. There is no "three strikes you're out" rule in Catholicism. No, we are able to receive God's mercy time and time again, as many times as we need it, as many times as we are willing to ask for it.
This great gift of God's mercy is why the Church sings Alleluia! It is why the psalmist proclaims, "His mercy endures forever" (Ps. 118). It is why the Apostles went out into the world to preach the good news. Because it is good news. It needs to be shouted from the rooftops. God has come to free us from the slavery of our sins. We have sinned against God, but God forgives us in Christ!
And it is why the Church reminds us, on this second Sunday of Easter, of the importance of relying upon God's mercy. All during the penitential season of Lent we hear messages of repentance. We hear calls to conversion. Our churches may offer extra opportunities for reconciliation. But we don't leave all that behind now that Lent is over. God's mercy endures forever. It is timeless. It knows no season. It is ever present.
The time to receive God's mercy is now. In the diary of St. Faustina Kowalska, she records a vision of Jesus saying, "He who refuses to pass through the door of My mercy must pass through the door of My justice" (Diary 1146). God leaves that choice in our hands.