Are You an Evangelist?
6th Sunday of Easter (A)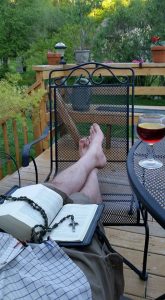 A
re you an evangelist? If you asked most Catholics that question, they'd probably hesitate before answering. Many would say "no." It's not a word most of us are comfortable with (perhaps because it has become associated in our minds with a certain sub-set of Protestantism). But that's a shame. Because if you are a baptized Christian, you are supposed to be an evangelist.
The word evangel comes from the Greek for "good news." It's the same word that we translate as "gospel." So an evangelist is one who shares good news — specifically the good news of Jesus Christ. Who doesn't like to share good news?
The task of spreading the good news of Christ is not reserved for the bishops and clergy, or for monks and nuns. It's primarily the job of lay people. The Catechism reminds us that lay people have "the right and duty… to work so that the divine message of salvation may be known and accepted by all men throughout the earth" (CCC 900). The Second Vatican Council proclaimed that for lay people, "evangelization… acquires a specific property and peculiar efficacy because it is accomplished in the ordinary circumstances of the world" (Lumen Gentium 35).
"Ordinary circumstances of the world" would included places where clergy and consecrated religious often cannot go: places like the workplace, the marketplace, neighborhoods, and in the case of college campuses, classrooms and dorms. In other words, in most places in the world, the task of sharing Jesus' good news falls to lay Catholics.
For you, maybe that doesn't feel like good news. Maybe you don't feel comfortable talking with others about your faith. Maybe you don't feel smart enough. Maybe you don't feel holy enough. That's OK. You don't have to be a theologian or a saint to share with someone why Jesus is important in your life.
Our readings for this Sunday give us a "game plan" for how to evangelize. The first reading from Acts tells us about the deacon Philip traveling to Samaria and proclaiming Christ to the people who lived there. They are converted, but that's not the end of the story. Peter and John come to them from Jerusalem to lay hands on them so that they might receive the Holy Spirit. We still do that today. We call it the sacrament of Confirmation.
What this episode tells us is important. Evangelization is about introducing someone to Jesus. So it's not enough to just tell them about Jesus. You want them to actually meet Him. And you find Jesus in His Church. So the new Christians in Samaria were introduced to the person of Jesus through His Apostles, Peter and John. They had already been initiated into the Church by baptism, but the Apostles confirmed that initiation through the laying on of hands. When someone puts on Christ in baptism, they become members of His Body, the Church. Evangelization starts outside the Church, but it should always end inside the Church.
The second reading from 1 Peter reads like a check-list for evangelization! We can take it line by line.
1. Sanctify Christ as Lord in your heart. This has to come first. You can't introduce someone to Jesus if you don't know Him yourself. You can't give someone a gift that you don't have.
2. Always be ready to give an explanation to anyone who asks you for a reason for your hope. There is something different about Christians. People can tell. We have peace. We have joy. We have hope. We can expect people to ask about it. Whether they are asking a question about the doctrines and practices of the faith, or just want to know why are you so happy? we should be ready to tell them about it. This doesn't mean we have to have the Catechism memorized. But we should know the basics. We should know why we do what we do and believe what we believe. Most importantly, we should be comfortable just sharing honestly about how our relationship with Christ makes our lives better.
3. But do it with gentleness and reverence. You can call this the "don't be a jerk" principle. Evangelization is about winning souls, not winning arguments. This is all about having a loving and charitable attitude. We can be right in what we say, but wrong in how we say it. A combative attitude can close someone'e heart to the truths of the faith. We don't want that. So when you "give a reason for your hope," always be respectful of the other person. After all, you want them to be your brother or sister in Christ. So treat them lovingly.
4. Keeping your conscience clear. This means living an upright moral life, and striving for virtue. Why is this important? It ties into #1 above. If you haven't made Christ Lord of your heart, you can't ask others to do so. If you aren't living virtuously, you offer at best a hypocritical witness. Your credibility is diminished. But most importantly, you won't be ready for what comes next.
5. Expect to be persecuted. St. Peter says that we need to keep our conscience clear so that we'll be ready when people malign us for the sake of the gospel — which they will do. They did it to Christ, and there has never been a better evangelizer than our Lord. We can expect no better for ourselves.
And finally, the best news of all about evangelization comes in our gospel passage. Jesus tells us, "If you love me, you will keep my commandments. And I will ask the Father, and he will give you another Advocate to be with you always, the Spirit of truth." By keeping the commandments of God, we keep a clear conscience, as St. Peter instructs us. But we also remain united with Christ, who promises to send us the Holy Spirit as our advocate and guide. This is essential, because it is not we who are the true agents of evangelization, but the Holy Spirit working through us. Neither you nor I can convert a single person's heart to Christ, but the Holy Spirit can convert thousands through our witness, if we cooperate with Him by keeping Christ's commands.
The Church received the Holy Spirit at Pentecost, which we will soon celebrate once more at the end of the Easter Season. We as individuals receive the Holy Spirit at our Confirmation, like the Samaritans in our first reading from Acts. The sacrament of Confirmation is our personal Pentecost, where we receive the power to live lives of holiness, and the power to witness to world about the good news of Christ.

If you have the Holy Spirit, then you have this power. What you don't have are excuses.
So I ask again: are you an evangelist?