Parking for Fall 2022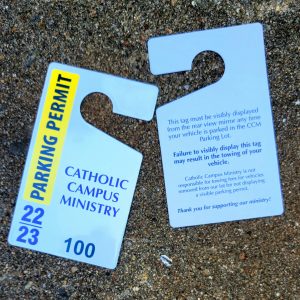 Parking permits are now available to purchase for the CCM lot for the Fall 2022 and Spring 2023 semesters.
The Catholic Campus Ministry parking lot is only a 5 minute walk from the center of campus – closer than the new parking garage campus just built! And we don't oversell, so you never have to worry about not finding a space to park. And best of all, the proceeds from the parking permits go 100% to support our ministry. So thank you!
Rate: $150 per semester
Here's how to register:
UPDATE: 8/16/22
We are down to our last six parking permits. At this time we are no longer recommending people send in their registration by mail and have disabled the below download link. If you would like to purchase a pass, please contact us first to ensure one is available or come by CCM to register in person. Thank you!
Print it, fill it out with your vehicle's details, and sign it.
Mail it, along with your check made payable to "Catholic Campus Ministry" to
Catholic Campus Ministry
PO Box 2766
Cullowhee NC 28723
Once we receive your registration and payment, we will confirm via email and mail your parking pass to your address. Permits are limited in number and we often sell out before the start of the Fall semester, so don't hesitate to claim yours.