How Covid-19 is effecting Mass on Campus
UPDATE 1/14/2021: During the 2021 Spring Semester, until otherwise announced we will be following all the same Covid-19 safety protocols for Mass as described below for the Fall 2020 semester.
---
How will Mass on campus for the fall semester be different because of COVID-19 concerns? Here's what you need to know!
Our greatest logistical challenge is the small size of our chapel. With social distancing restrictions in place, we cannot have more than 12 worshipers in the pews at one time (not including ministers and cantor/musician). The chapel will be open during the week for private prayer, and we will be offering multiple times for Adoration, but a larger venue is required for Sunday Mass.
Mass at Hillside Grind
Thanks to our friends at Hillside Grind, we will be offering Sunday Mass at this non-profit coffee house operated by UKirk Presbyterian campus ministry. This change in venue provides us with space to accommodate a greater number of people while maintaining social distancing. The large lawn in front of the coffee house allows us to offer Mass outdoors, which is much safer in terms of potential COVID-19 spread, and can easily accommodate up to 60 people with social distancing. Our plan is to celebrate Mass outside as much as possible, moving indoors when needed due to weather.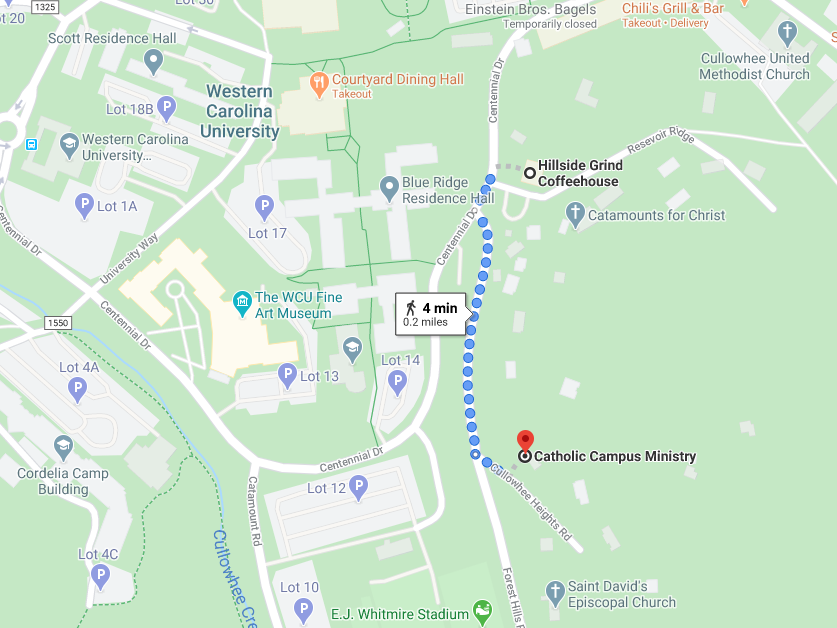 Confessions
Confessions will be offered an hour before Sunday Mass, at Hillside Grind.
Friday Mass
We will be offering a weekday Mass on Friday afternoons at 12:15 pm in the CCM chapel starting Aug. 21, limited to 12 worshipers in designated seats in the pews.
COVID-19 Protocols
Everyone is expected to wear a face covering and maintain 6′ social distancing.
Everyone is expected to use hand sanitizer before entering the building.
We will not be using hymnals and will not have congregational singing.
Holy Communion may be received on the tongue or in the hand.
Please allow 6′ distance between people in the Communion line.
The ministers will be sanitizing their hands in between each communicant.
Live stream Masses
All Sunday Masses will be live streamed on our Facebook Page at 4:00 pm.
Important Reminders
Bishop Jugis has dispensed the faithful from the obligation to assist at Mass on Sundays during the pandemic.
If you are immune compromised, please be prudent and remain home.
If you are ill, experiencing symptoms of the COVID-19 or any other ailment, or have been exposed to someone with COVID-19, please remain home out of charity for others.
Whether you attend Mass in person or not, Sunday should still be kept as a day of prayer and rest.
Those not attending Mass are encouraged to make an act of spiritual communion (see

this helpful guide

for more information).